eCommerce website:
Paint Magic
Paint Magic is a luxury paint brand and an extension of BEDEC Products Ltd. They are a highly reputable and long established trade paint manufacturer Essex.
The Challenges
.
Paint magic were looking for a quirky but chic interpretation of the traditional Paint website. Unlike their parent company BEDEC, who were aimed towards the work trade, they were looking to appeal to a much younger, retail audience.
Emphasis on bold, stylish imagery and intuitive online experience were key aspects of their brief. It was the first time BEDEC had delved into the online shopping space, so they were looking for a digital agency that knew how to deliver.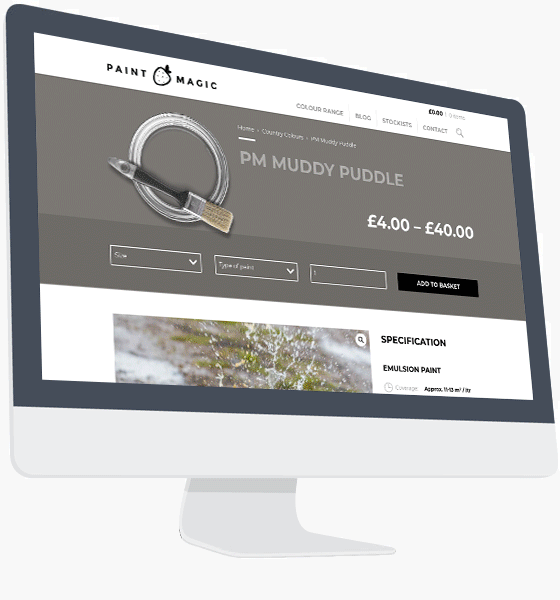 Totally customised
.
At Hands Digital, we will never purchase any pre-built template for any of our projects. We believe that a website should be built around a brand, and never vice-versa.
We work very closely with our clients throughout the design stage to create the perfect concepts. Because of our fully customised approach, the concepts during this stage are completely flexible and tailored to suit the brand and brief.
However, all of our design concepts are heavily influenced by statistical data and future marketing consideration. We never design any part of a concept just because it looks pretty. There are reasons behind every aspect and suggestion we provide.
The results
.
All of our websites are designed and built specifically for SEO purposes. Providing advice and guidance throughout the project, whilst remaining flexible with clients requirements, we really benefited long term.

The end result was perfect for our clients requirements and had all the ideal foundation for future marketing campaigns – We take this same approach throughout all of our projects.
Testimonial
.
"We were really nervous about selling our paints online. However, the team at Hands Digital made it so easy and simple to understand. We are thrilled with the end results and look forward to working with Hands Digital on the digital marketing strategy after launch."
Nicola – Head of Marketing
Back to top